ABOUT
ALWAYS EVOLVING...
Branch started out as a window gallery down the road in 2012 where local and national artists' installations were displayed to a passing audience. The walk-in space was opened in October 2015 and evolved into a vintage shop specialising in ceramics.
Please join the mailing list to receive updates and invitations.
September 2017 I moved next door and re-opened in the newly renovated larger space... this evolved to stock predominantly garden related items along with an interesting mix of smaller vintage items for the home. The space has now transitioned once again, see below, but we continue to stock some vintage items, please check the website shop sections for listings.

Window Space and Vintage
2023 will be the year I shift my business to mainly online, viewing and sales of the vintage items will occur through appointments and postage... it will also be the year I return to using the front window space as a pop-up space for others to use to sell and promote their wares.
Please visit the POP-UP page for further information and the EXHIBITION page to view the past installations from the previous window space.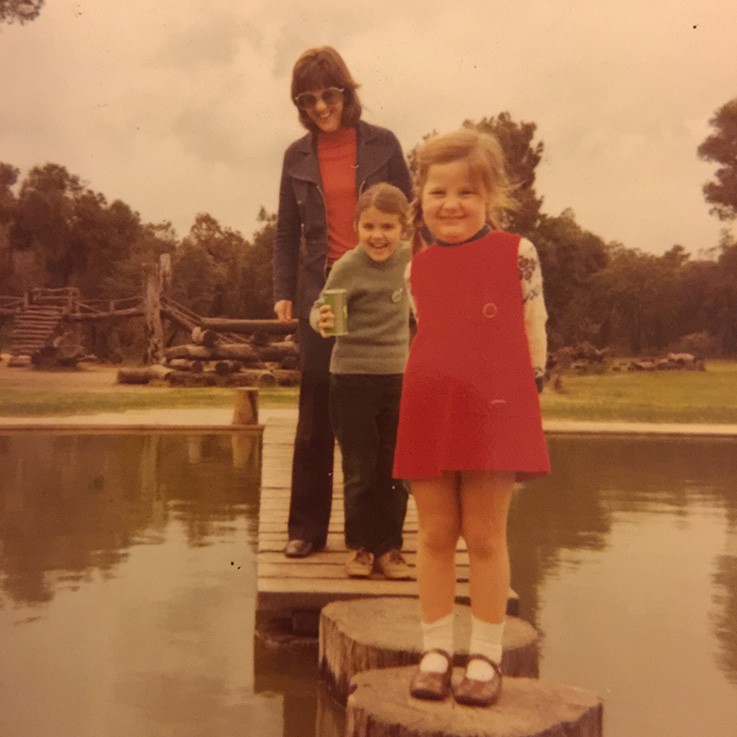 Sarah Nolan
A little bit of information about me... the little girl in green...
I'm still most comfortable in my jeans and pottering about with plants, restoring objects and making things with my hands, and still not comfortable about being photographed.
As a single mother and child of the second world war, our mother Sue, was a great one for making things last, and living frugally... this way of life was instilled in my sister and I. She also created a lovely home environment on a very small budget, full of books, artworks, pottery and restored furniture. Only now, later in life, do I fully appreciate the effort it took to achieve the home we experienced.
I've had a few jobs over the last fifty years... working in various secondhand bookshops in Sydney and Melbourne; as a graphic designer in Perth and London; art teacher in Sydney public primary schools; an artist who had a few commercial gallery shows; and before the shop opened I operated a window gallery, and did volunteering and casual work for arts organisations. I have completed a TAFE Certificate in Graphic Design in 1985-86 (before computers were being used for design jobs); a Bachelor of Design Majoring in Visual Communication 1996; and in 2004 I did a Graduate Certificate in Teaching Art to Children.
Many visitors to the shop have expressed how they enjoy the items being curated within the space, I appreciate the positive feedback and hope that a visit to the space is memorable and interesting, even in 2023 when the smaller space operate differently.
I've enjoyed researching the items that have passed through the shop... my knowledge has grown so much over the last eight years.
Sarah
Save
Save
Save
Save
Save
Save
Save
Save
Save
Save
Save
Save
Save
Save
Save