06.09.14 to 27.09.14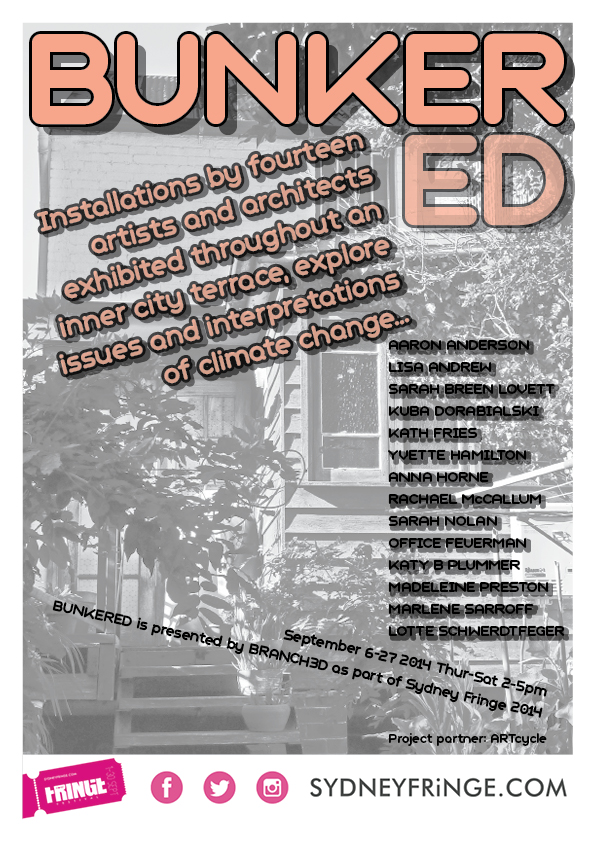 September 6-27

Installations by fourteen artists and architects exhibited throughout a Forest Lodge terrace, exploring future living possibilities, issues and interpretations of climate change... the residents and their dog will still be living in the house.

BUNKERED will be situated at the BRANCH3D window gallery site that has been operating since March 2012. BRANCH3D aims for artists to present their site-specific installations to a passing alternative audience to that of a conventional gallery.

BUNKERED will expand the remit of BRANCH3D by opening up the entire structure of the house for site responsive works. The stripped back, exposed brick and beam environment of the 1890s terrace in its pre-renovation state, reveals the core structure, and the fragility of the building materials, inferring decay and transition. The participants range in age and experience and the works will reflect this diversity through video, fabric, lighting, ceramics and mixed media.

The non-gallery environment of the house will enhance visitors' experiences and provide a context for the issues explored through the exhibited installations.
BUNKERED has been curated and organised by artist, founder of BRANCH3D and resident of the house Sarah Nolan.

Our partner for this event was be ARTcycle and we were part of Sydney Fringe 2014.
Review on the ARI Experience